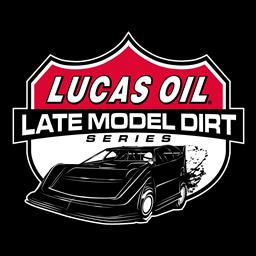 5/27/2023
Lucas Oil Late Model Dirt Series
---
Sunoco "Road to Wheatland" Program Pays Drivers at the Show-Me 100
BATAVIA, Ohio (May 27, 2023) – The Sunoco "Road to Wheatland" bonus program will pay the top fifteen (15) drivers with perfect attendance through the Show-Me 100. The Sunoco "Road to Wheatland" program has been a long-standing cash bonus program paid to drivers that follow the series and maintain perfect attendance.
Drivers that have maintained perfect attendance at all Lucas Oil Late Model Dirt Series sanctioned events through the Show-Me 100 will receive an additional cash bonus based on their position in the championship point standings. The championship point leader following Saturday's Show-Me 100 main event will receive a $2,500 bonus from a total of $16,000 in bonuses paid out to the top fifteen drivers in the standings.
The fifteen (15) drivers that are eligible and will receive bonuses at the Show-Me 100 include: Ricky Thornton Jr., Hudson O'Neal, Brandon Overton, Tim McCreadie, Devin Moran, Jonathan Davenport, Daulton Wilson, Max Blair, Tyler Erb, Earl Pearson Jr., Spencer Hughes, Jimmy Owens, Garrett Alberson, Tyler Bruening, and Ross Robinson.
"Sunoco Race Fuels would like to thank the Lucas Oil Late Model Dirt Series and their perfect attendance drivers for their continued support of the annual Sunoco Road to Wheatland', stated Ritchie Lewis, Partnership Sales Manager, Sunoco Race Fuels.
The Sunoco "Road to Wheatland" is the first bonus round under the new Big River Steel Chase for the Championship presented by ARP in 2023 and locks in the top fifteen drivers that will be eligible for the record points fund of over $1,000,000.00. The series champion will receive $200,000, with the top four drivers in the final series point standings earning a minimum of $100,000.
"Sunoco Race Fuels has been a great partner for many years with the series and continues to support the Road to Wheatland program. Their partnership is vital to the increased points fund this year and rewarding the drivers that maintain perfect attendance. We are very appreciative to Sunoco for stepping up and giving generously to the racers that support the Lucas Oil Late Model Dirt Series," stated Wayne Castleberry, Corporate Sales, and Marketing for Lucas Oil Motorsports.
Sunoco Road to Wheatland Purse: 1. $2,500, 2. $1,500, 3. $1,500, 4. $1,500, 5. $1,500, 6. $1,000, 7. $1,000, 8. $1,000, 9. $1,000, 10. $1,000, 11. $500, 12. $500, 13. $500, 14. $500, 15. $500 = $16,000
To keep up with the latest news, results, schedule, and other information about the Lucas Oil Late Model Dirt Series visit www.lucasdirt.com.
About Sunoco Race Fuels
For decades, Sunoco's fuels have been associated with racing excellence. Today, Sunoco has expanded the reach of its racing fuels line around the world to include all types of professional motor sports and other activities where premium race fuels make a difference. With its unsurpassed innovations and years of experience, it is easy to understand why more engine builders, racers, tracks and sanctioning bodies choose Sunoco over all other racing gasoline combined. It takes high-performance racing fuels that are willing to go the distance – fuels like those produced by Sunoco. As the largest manufacturer of racing gasolines in the world, Sunoco has a 40-year track record of winning performances. To learn more about Sunoco Race Fuels, visit: www.sunocoracefuels.com.
---
Submitted By: Jeremy Shields
Back to News