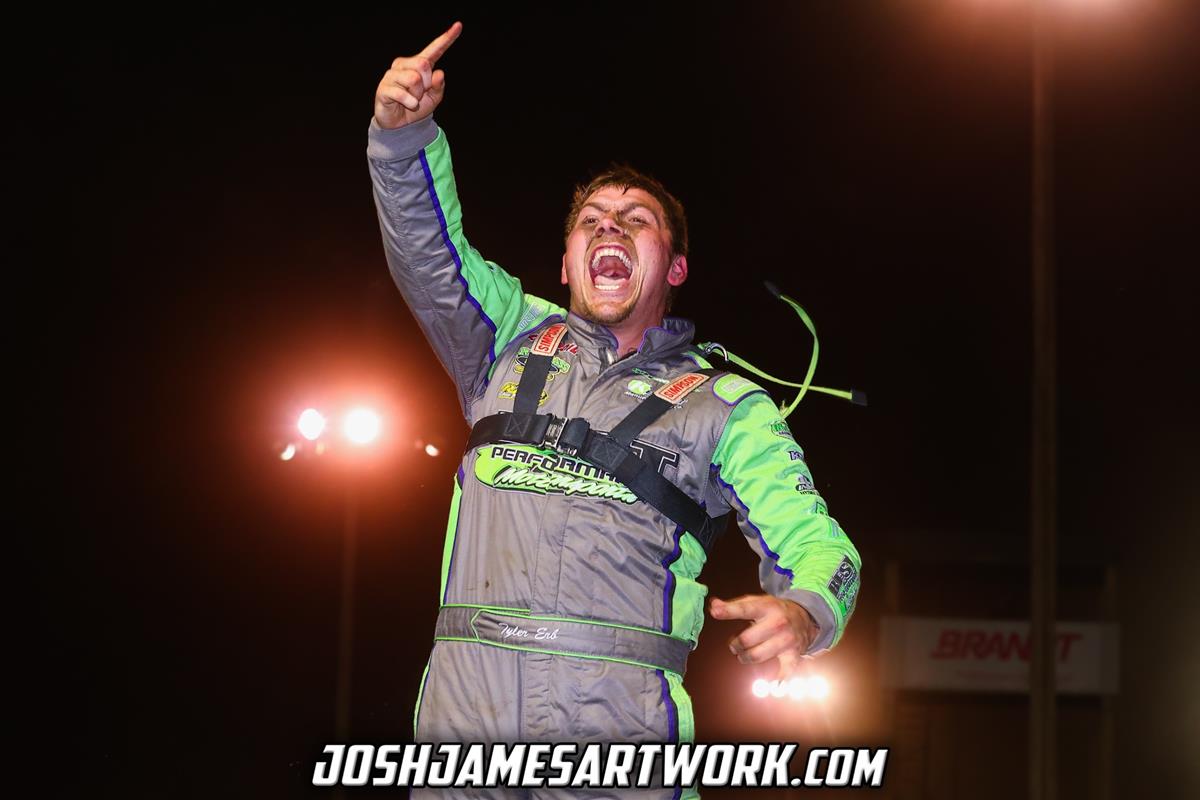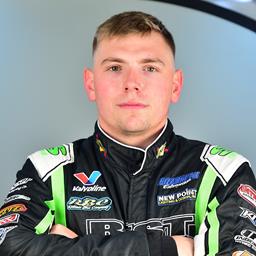 ---
Erb wins Farmer City 74 thriller, pockets $15,000
Tyler Erb picked up his fourth victory of the season in thrilling fashion on Friday night at Farmer City Raceway. He used a daring run exiting turn four coming to the checkered flag to pass Ricky Thornton Jr. and claim the $15,000 triumph in the Farmer City 74 presented by Douglas Dodge. (Josh James Artwork)
The winning performance came aboard his Bulk Material Lift / M&W Transport No. 1 Best Performance Motorsports / First Class Septic / XR1 Rocket Chassis/ Clements Racing Engine Super Late Model.
"That was a lot of fun," Erb said with a broad smile as he glanced up at the cheering Farmer City crowd on Night 3 of the inaugural four-race Illinois Speedweek. "I love coming here, Fairbury (Speedway), all these Illinois tracks. I just never had much luck here. Randall (Edwards) told me to kind of quit running the bottom like I was, because I was making no more speed.
"Really, in one and two he (Ricky Thornton Jr.) was a lot better than us. I knew my line there (in turns three and four), and I honestly couldn't believe it the last corner. He just kind of skated to (the top), and I turned 9900 (RPM on the homestretch) and it worked out. I want to thank Best Performance Motorsports and all of our great sponsors on this car. They give me everything I need to win, and tonight we got the job done."
Best Performance Motorsports and Tyler Erb invaded the Land of Lincoln on Wednesday afternoon as the inaugural Illinois Speedweek came to life at Spoon River Speedway (Banner, Ill.).
Drawing a stout field of 56 Castrol FloRacing Night in America entries, Erb missed a transfer spot by one position in his heat, relegating him into the B-Main. After scoring a runner-up finish behind Brian Shirley, Tyler went on to pass eight cars in the 50-lap feature to finish 14th.
For the second round on Thursday at Lincoln Speedway (Lincoln, Ill.), Tyler advanced two spots in his heat race to place second. Starting the $22,022-to-win A-Main in 12th, Erb scored a seventh-place finish in the 50-lapper after pitting during a lap-21 caution to replace a flat tire.
In a field of 52 MARS Racing Series entries on Friday at Farmer City Raceway (Farmer City, Ill.) for the Farmer City 74 presented by Douglas Dodge, Erb laid down the third-fastest time in his group before picking up a heat race victory. Earning the fifth-starting position for the A-Main, Tyler nosed ahead of Dennis Erb Jr. for third near the halfway point and set his sights on race-leader Ricky Thornton Jr.
After the pair engaged in a heated battle in the closing laps, Erb pulled off a last-lap pass in the final corner to capture his fourth win of the season and a $15,000 prize. He finished ahead of Thornton, Hudson O'Neal, Bobby Pierce, and Brandon Sheppard.
To wrap up the weekend, Tyler headed to Fairbury Speedway (Fairbury, Ill.) on Saturday for the Titan Industries FALS Spring Shootout. With a heat race victory placing him on the third row for the $30,000-to-win finale, Erb was an early retiree on lap 41 while running in third after losing power. He was credited with a 19th-place outing.
Full results from the week are available at www.FloSeries.com.
The upcoming week has three races on the docket for Tyler and Best Performance Motorsports. Action opens on Wednesday night at Marshalltown (Iowa) Speedway with a $22,022-to-win Castrol FloRacing Night in America event. Tyler is sixth in the latest miniseries points.
On Friday and Saturday the Lucas Oil Late Model Dirt Series (LOLMDS) resumes its 2022 campaign with Iowa visits to 300 Raceway ($12,000-to-win) and 34 Raceway ($15,000-to-win). Tyler sits third in the latest LOLMDS standings.
Article Media
Back to News