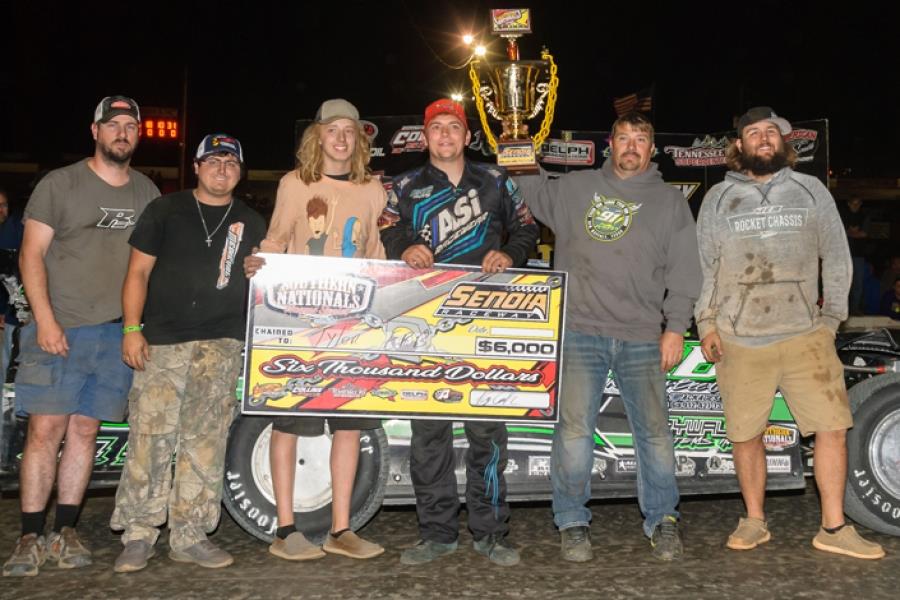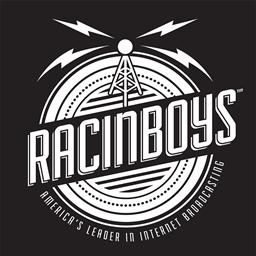 ---
Tyler Erb Turns Guest Appearance into $6,000 Senoia Triumph
By Ben Shelton (New Waverly, TX) -- Tyler Erb may have been in a different ride over the weekend, but it didn't slow his roll one bit. The Texas racer stayed red hot with a $6,000 Schaeffer's Oil Southern Nationals Bonus Series win on Saturday night at Senoia Raceway (Senoia, Georgia).
The victory came behind the wheel of the Steven Roberts-owned #111 Roberts Bee Company/ XR1 Rocket Chassis/ Clements Racing Engine Super Late Model.
"It feels really great to be able to get a win for Steven (Roberts) in one of his personal cars," Erb noted. "He's really stepped up to offer a lot of support for me and my team this year, so to give him a win in his #111 is pretty awesome.
"When we took off, (the car) was really, really good," Erb continued. "Last night I put us behind qualifying. I made a couple of changes tonight that I was wishy-washy when I practiced … I should've done it and I didn't. It definitely worked out and we have something to work off of when we come back next year of the (World of Outlaws) race."
On Friday night Tyler Erb made the trek to Senoia Raceway (Senoia, Georgia), where he was piloting the Steven Roberts-owned #111 Super Late Model in the Schaeffer's Oil Southern Nationals Bonus Series sanctioned doubleheader.
In a field of 30 entries, Erb secured his spot into the opening night feature with a heat race victory. Starting in 11th, Tyler passed seven cars in the 40-lap affair to finish fourth behind Shane Clanton, Ashton Winger, and Michael Page with Tyler Millwood rounding out the Top-5 finishers.
The following night, Tyler qualified second fastest behind Shane Clanton, positioning him second on the starting grid for the finale. Jumping into the lead at the drop of the green flag, Erb held off late-race challenges from Michael Page to capture his 10th win of the season and a $6,000 payday. Page, Casey Roberts, Tyler Millwood, and Austin Horton completed the Top-5 finishers in the 50-lap affair.
For more results from the weekend's events, please visit http://www.SouthernNationalsSeries.com .
This weekend – October 27-28 – Tyler will return to the drivers seat of his familiar #91 New Point Lighting and Design Inc. Super Late Model. He'll be competing in the 24th annual Coors Light Fall Classic at Whynot Motorsports Park (Meridian, Mississippi). The event will culminate with a $15,000-to-win/ $1,000-to-start finale.
For more information on the event, please visit http://www.WhynotMotorsportsPark.com .
Tyler Erb and Erb Racing would like to thank their sponsors including New Point Lighting and Design Inc., Roberts Bee Company, Keyser Manufacturing, Day Motorsports, Clements Racing Engines, QA1, Integra Racing Shocks, Champion Oil, JD's Body Works, Tye Twarog Racing, KBC Graphics, Dirt Defender, Franklin Enterprises, Hoosier Tire South, Toste Construction, ASI Racewear, Dominator Race Products, Performance Race Engineering, Landrum Springs, Fragola Performance Systems, Powermaster Performance Starters & Alternators, Superior Bearing Supply, and MSRMafia.com Marketing Services.
For the latest information on Erb Racing, please visit http://www.TylerErb.com .
---
Submitted By: Kirk Elliott
Back to News